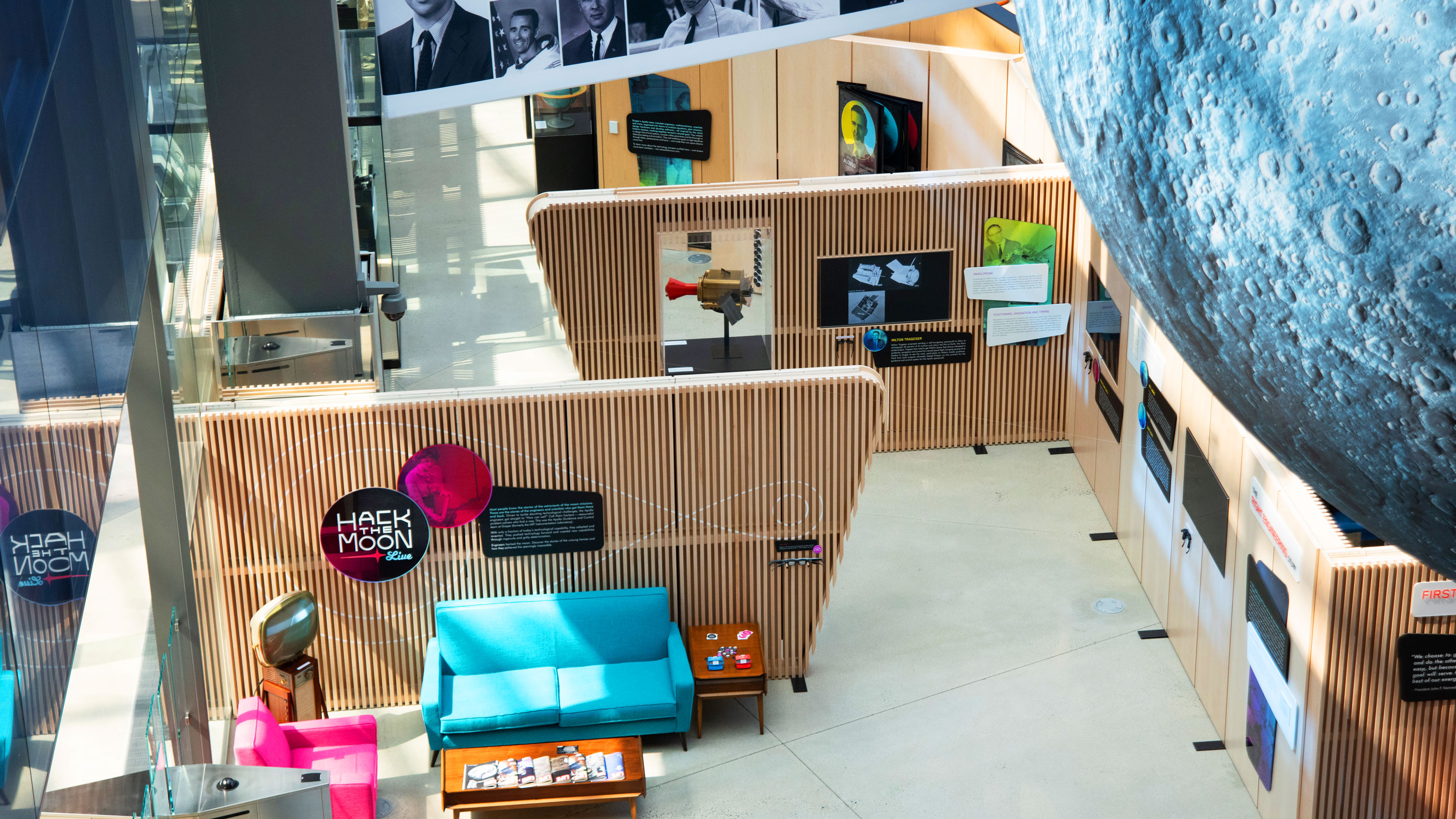 Hack the Moon LIVE is now CLOSED
Be inspired! Discover how we hacked the moon! Explore the unsung stories of the engineers who guided the Apollo astronauts to the moon and back safely in an interactive multimedia exhibit featuring exclusive interviews, photos and artifacts at Draper. And starting July 20 test your piloting skills in the Lunar Lander Simulator.
Exhibit Highlights:
Museum of the Moon
A spherical sculpture of the moon seven meters in diameter encircled in hi-res NASA imagery of the lunar surface at an approximate scale of 1:500,000, Museum of the Moon hangs above visitors to Hack the Moon LIVE. Lit from within, this touring art exhibit created by the UK artist Luke Jerram is a fusion of lunar imagery and moonlight.
The moon will illuminate for the first time July 20 at the exact moment Neil Armstrong stepped onto the moon 50 years ago. 
Lunar Landing Simulator
Make the final descent to the moon yourself in 100 Seconds: Engineering the Lunar Landing Experience. This true-to-life 4D simulation of landing a spacecraft on the moon will be open to the public on Wednesdays and Saturdays. See below for dates and times. To ride the simulator, you must be at least 4 feet 6 inches tall.
Exhibit Hours
Free Admission, open to the public through Oct. 5. CLOSED: October 1 - 2. Please keep in mind that all visitors must go through a security screening.
Weekdays:
Main exhibit only.
Monday – Friday:  12 - 4 p.m.
Main exhibit and simulator use.
Wednesdays:  12 - 4 p.m.
Saturdays:
Main exhibit and simulator use. 
5 - 10 p.m.
Location:
Draper, 555 Technology Square, Cambridge, MA 02139
Getting here:
Draper is a five-minute walk from Kendall Station (MBTA Red Line), there are also bus stops and Blue Bike stations nearby. Several parking garages are located in the area; the Technology Square garage is closest and is located directly across the street from Draper.
During the weekend hours ONLY, the Draper Employee garage will be open and free for parking, located directly across the street from Draper. Please look for the event parking sign! We will not be validating parking from the Technology Square garage. 
Already attended Hack the Moon LIVE? Please leave us your feedback! Take a two-minute survey.
Dates & times subject to change. Check back to this page or follow @wehackthemoon to stay up-to-date on the latest.